The Art of Argument
Middle and high school students will argue (and sometimes quarrel), but they won't argue well without good training. Students who complete The Art of Argument will know how to reason with clarity, relevance, and purpose . . . and have fun along the way! They will study and master 28 logical fallacies, which will provide an essential lifetime framework for not only filtering good and bad reasoning but also writing and speaking effectively. This mastery of informal logic is a foundational subject by which other subjects are evaluated, assessed, and learned.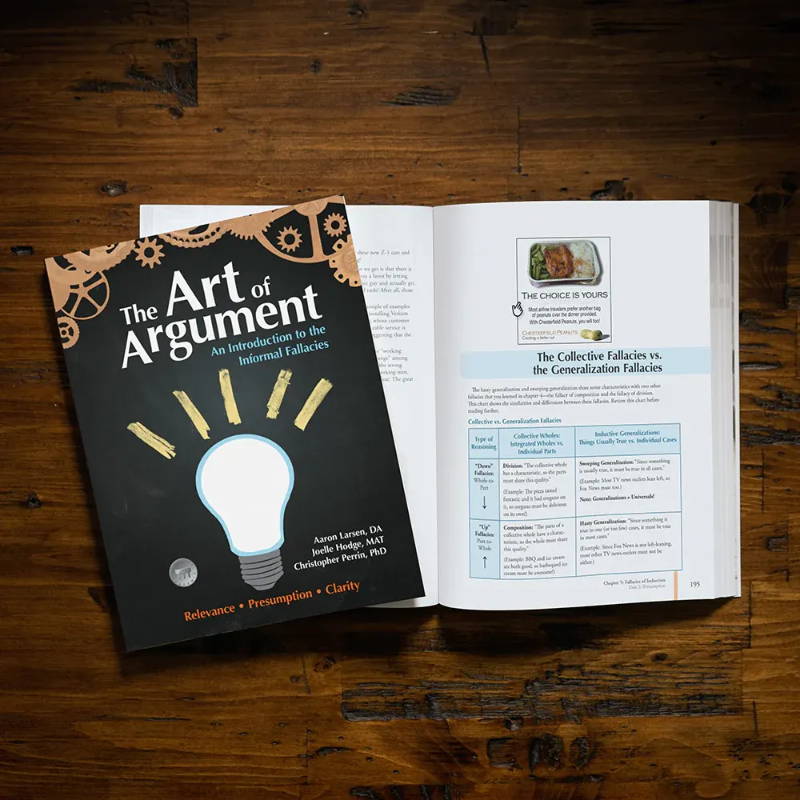 ---
Learn More About The Art of Argument
What's Included in the Full Program?
The Art of Argument (consumable student edition) This book teaches 28 informal fallacies (such as begging the question, the straw man, ad hominem, etc.). Clear explanations and illustrations, along with dialogues, worksheets, and dialectic discussion questions, make this text easy to follow and make these fallacies fun to learn. The fallacies become relevant with practical applications through an analysis of current social, commercial, and political issues, as well as more than 60 comical and clever phony advertisements. Fun extras are included, such as a humorous skit for students to perform and the famous short story "Love Is a Fallacy" by Max Shulman.
The Art of Argument Teacher's Edition This edition contains all content from The Art of Argument student edition, along with answer keys, teaching tips, and invaluable chapter and unit tests.
The Art of Argument Video (Streaming or 5-DVD Set) This video series features three experienced logic teachers and four capable, enthusiastic students discussing each fallacy presented in The Art of Argument. This video set is a valuable resource for every student and teacher using The Art of Argument Each video segment features one fallacy, which is presented, defined, and then discussed and explored using a blend of enthusiasm, contemplation, and humor. Each discussion seeks to make a practical application of the fallacy to student life, advertisements, political speech, or various ethical and philosophical debates. The streaming option provides the convenience of instant access, as well as desktop, smart TV, and mobile viewing capabilities. Streaming access does not expire!
Browse the Rest of Our Logic Collection!
Have More Questions?
Visit our FAQ Page to find more answers to common questions about our Logic programs. Click the "Support" tab on any of our Logic program pages for additional resources!
---
Our Commitment to Classical Education Stretches Beyond Curriculum
Click on the Images to Learn More about our Other Feature Services!
---
---